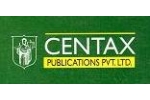 CENTAX comes from a family having nearly a century's expertise in the field of Tax Laws. It has a notable history in the publication of legal literature on taxation and even had a Publishing House in England.
In the pre-independence era, Shri. B.R. Jain pioneered the publication of books and journals on tax laws after the First World War when the Indian Income Tax Act was enacted by the Britishers as a "War Levy" to meet the expenses of the First World War. Shri. B.R. Jain was a renowned tax practitioner with offices in Delhi, Allahabad, Lahore and Mumbai. After Independence, his sons, Shri. J.D. Jain, P.D. Jain, M.G. Jain and K.R. Jain expanded the publications by venturing into the fields of Company Law, Labour Laws, and Sales Tax. In mid-50s, they introduced the 'Loose Leaf System' with Upto Dating Services for Law Books in India whereby books are supplied in specially designed folders for replacement of pages where there are changes so that customers always have up-to-date books. Similar 'Loose Leaf System' is now adopted by the WTO for Harmonized System of Nomenclature (HSN).
Sh. R.K. Jain, the renowned author of Indirect Taxes is in the third generation of Shri B.R. Jain. He further expanded the field of Publications to Customs, Central Excise, Service Tax, Foreign Trade Policy (FTP), GST and FEMA. He made his debut in early seventies and in the year 1975, he brought out Customs & Excise Tariffs and Manuals which have celebrated Silver/ Golden Jubilee Editions.
Address : 59/32, NEW ROHTAK ROAD, NEW DELHI – 110005, (INDIA)


PHONES : 011-40749999
BUSINESS HOURS : 9:45AM to 6:00PM
List of Books published by Centax Publications Pvt Ltd