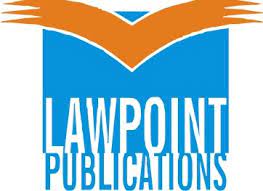 Lawpoint founded by Shri Ashok Kumar Lodha an excellent businessman with great knowledge, experience and skill to serve the books industry with quality service in bookselling and publishing. Lawpoint has been felicitating books on legal, commercial, information technology, fiction, non-fiction, banking and insurance and other related books and related source materials to the readers fraternity of Kolkata and the other cities of India.
Lawpoint in the year 2008 launched its sister concern "Lawpoint Publications" a concern dedicated to publishing books and other informational materials. Lawpoint Publications has published over 300 books on Computers and Information Technology, Central government and Other Departmental Examinations, Professional courses such as CA, CS, CWA, LLB, MBA, M.Com, BBA, B.Com, Banking and Stock Market and Finance.
Lawpoint has also been into exclusive distribution with various publishers such as The Mc-grawhill Group of Companies in India,etc.
As each passing day witnesses the varied demands of professionals, institutes, colleges, government departments and other related corners so we get inspiration to branch out and multiply with the needs of the time. This desire to strive for excellence has landed us in the vicinity of our customers, being situated at 6c,R.N.Mukherjee road, Stephen House. We every year serve huge number of customers by providing and supplying books to them. Now we have also spread our arms to other products like stationery, softwares, E-Learning and Services.
Lawpoint clientele includes various institutions, colleges, government departments, professionals, students and many more whom we have been able to serve at our level best and satisfy their needs for books and other informational materials.
The role, help and support of the whole team of Lawpoint is very precious and is invaluable in our growth and our expansion in our businessline. Further, the work of our Authors being inevitable and invincible in providing us a cutting edge over others and thus, helping us to spread and share knowledge through our books. It is only through the mouth of our authors we speak and get ourselves known. We would thank everyone who has been a part of our concern directly and indirectly for their efforts, it is because of these efforts that Lawpoint is a successful book selling firm.
We have a collection books spread over a number of subjects such as finance, banking, CA, CS, CWA, LLB, Law, Personality Development, MBA and lots more.We have been dealing in books of many a publishers. Softwares of Legal, Professional, computers and others. E-Learning is the next big thing in the education industry, to which we have pooled e-learning from many a good teachers and educators.
Address : 6c, R.N.Mukherjee Road
Stephen House
Kolkata: 700001
List of Books published by Lawpoint Publication